MOST WANTED: Sangay Tsheltrim
By: ASJAD NAZIR
HOW SALMAN KHAN INSPIRED SANGAY TSHELTRIM
Tsheltrim got his big Bollywood break working on the 2021 action blockbuster Radhe: your most wanted Bhai.
The royal guard turned professional bodybuilder had a major impact in the film starring her idol Salman Khan and is now lined up for more projects on the big screen. Although he wants to work in projects on a global scale, the muscular star also wants to develop the film industry in Bhutan and looks forward to other challenges.
Eye of the East met Sangay Tsheltrim to discuss his Bollywood debut, his collaboration with Salman Khan, and his future hopes. He also gave some good motivation and health advice.
How did you go from the army to the comedy?
When I was a child, I always wanted to have a beautiful body. So when I was in the military, that's when I started training in the gym and on my muscles. When I was part of the Royal Bodyguard Clan, I voluntarily retired to pursue my passion for bodybuilding and represent my country on the international stage. I finished five years in professional bodybuilding and that's when my friends encouraged me to become an action hero. I just wanted to give it a try and see how it goes. That's how I ended up in the acting profession.
How was the experience of working in Radhe: your most wanted Bhai?
Even though I had made a film in my country in 2018, I am very new to this acting profession. Radhe was a very good experience and great visibility because the production scale was enormous. So that was great.
What was it like working with Salman Khan?
I was a big fan of Salman sir since his film, Pyaar Kiya Toh Darna Kya. There was a particular song sequence in the movie where he goes naked body and since then I wanted to have a great body. And that's how he inspired me. He's a great human being. Working with him and sharing screen space with him is something that I consider to be a great achievement for myself. I feel lucky and blessed to have gotten to know him personally, and at the same time to share the screen space with such a huge megastar.
So, Salman Khan inspired you to get started in bodybuilding?
Yes he did. I was very skinny as a teenager. Watching him I made the decision to build my body.
How did you manage to play a bad guy when you're such a nice guy?
It wasn't about how I look, but how I look. It was about my physique and my overall screen presence that matched the character. I think due to all of these factors I could justify the role without any problem.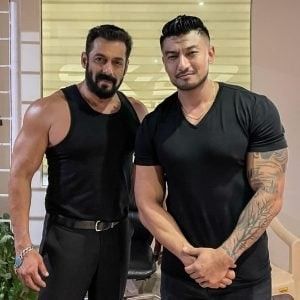 What is the master plan for the future?
I don't have a master plan and just want to go with the flow! Radhe was never planned, and I am not an actor by profession. I have a home business and own the biggest gym in my country, The Muscle Factory, and I'm in real estate as well. I have my own production house and I want to produce my own films in my country. So if I happen to get good offers and good roles, which I am right now, I will take them. I get offers and meet people. I'll see if I can take on the role or not, if Covid allows it. If they're good enough, I'll make them.
Do you have a dream role?
I don't have a dream role at the moment. But I would love to play an army officer on screen because I love my uniform. I miss my uniform so it won't be much of a problem and I will always have the edge over the other actors. My genre is action, so I would love to do more movies in this space.
You are a fitness icon in Bhutan, could you give us some good fitness advice?
The basic fitness advice I would give is to do half an hour of cardiovascular exercise in the gym. And do resistance exercises. If you can go to the gym well enough! But if not, do push-ups and pull-ups to keep your muscles active. The most important thing is diet; most of us don't eat on time, which is very unhealthy. Eat a balanced diet and get good advice on this from someone with knowledge in this area.
Can you give us some motivational advice?
Life is very precious, don't waste it! Set an objective; if you don't set yourself a goal, you won't have a path to your goal. During this journey you will encounter many obstacles, ups and downs. You will fail many times, but always remember to never give up! You will fail, but don't give up. No matter how many times you fail a day, you will succeed if you don't give up.
What inspires you?
I am inspired by the majesty of Bhutan. My king struggles, spends sleepless nights and lives for the country and people of Bhutan. This is the reason why all the people of Bhutan are inspired by him.